This blog is a guide to all the sulfonylurea herbicides that are currently registered for Australian turfgrass. All the chemical labels and SDS sheets are listed in the turf chemical section and in this turf pesticide manual. Up until recently, the sulfonylurea herbicides were classified as being in Group B and also known as ALS inhibitors and throughout this blog we will refer to a list of sulfonylurea herbicides by actives and trade names.
What are the sulfonylurea herbicides?
In the early 2000's the sulfonylurea herbicide type herbicides were reclassified as Herbicide Group 2. The sulfonylurea herbicides have become accepted in the turf industry due to their high selectivity and low degree of mammalian toxicity.  There is no one "best" sulfonylurea herbicide, consequently, due to their unique properties, they all have a roll to play in the Australian turf industry. These were first discovered and developed by DuPont. Sulfonylurea herbicides all have the same mechanism of action and all act by inhibiting acetolactate synthase (ALS). Putting it simply target plants die as new growth starves. This is because they cannot form required proteins without the amino acids valine, leucine, and isoleucine.
General housework for the sulfonylurea herbicides.
All the sulfonylurea herbicides have the same mode of action as they are in the same chemical group. Consequently, you should rotate with other herbicide groups with a different mode of action;
Every effort should be made to reduce spray drift;
Some sulfonylureas require watering after application and many recommend the use of surfactants;
To avoid herbicide injury always avoid application of these within seven days of organophosphate insecticides;
Their exceptional specificity means that turfgrass tolerance varies widely between similar herbicides. Halosulfuron can be safely applied for sedge (Cyperus spp.) control in both cool- and warm-season turfgrasses. Conversely, trifloxysulfuron (Monument liquid turf herbicide) also controls sedges but will cause significant injury to some cool-season turfgrasses;
Don't mix sulfonylureas with other chemicals i.e graminicides such as Destro® (diclofop-methyl). This will reduce efficacy;
These work best at a tank pH of around 7.0. So do not tank mix with acidifying chemicals or fertilizers;
They are very mobile in water under high pH conditions. Foramsul

furon, halosul

furon, and metsulfuron are between 50 to 100 times more water-soluble when water pH increases from 5 to 7. This can potentially cause carryover and injury issues; 'herbicide tracking' can occur up to 20 hours after application;
For ryegrass transition the best combination of results (increased couch growth with the quickest kill) is:

When average air temperatures are 18°C or higher, and/or when average soil temperatures (150mm depth) are 21°C or higher. Ideally, these target temperatures should persist for the week following application;

The best control of weeds occurs when weeds are actively growing. If the target weed is not actively growing it will not take up the pesticide. Due to their short soil residual, when plants begin to grow, there can quite often be a sublethal amount of chemicals left in the soil.
Negatives of sulfonylurea herbicides.
As a rule there are two major negatives from this group:
Symptoms of sulfonylurea damage
Growth stops;
A few days after application, target weed leaves become wilted, crinkled and chlorotic;
Leaf margins take on a red colour as a result of anthocyanin accumulation;
New growth tends to be stunted and malformed and finally
Roots are very sensitive to inhibition by these herbicides and may be totally inhibited
The table below shows the tolerance of warm- and cool-season grasses to sulfonylurea herbicides.
| | | | | | | | | | | |
| --- | --- | --- | --- | --- | --- | --- | --- | --- | --- | --- |
| | | | | | | | | | | |
| | | | | | | | | | | |
| | | | | | | | | | | |
| | | | | | | | | | | |
| | | | | | | | | | | |
| | | | | | | | | | | |
| Rimsulfuron + metsulfuron | | | | | | | | | | |
| | | | | | | | | | | |
Sulfonylurea herbicide formulations.
Tribute® – (22.5g/L Foramsulfuron).
General: This is used to control weedy cool-season grasses and crowsfoot in couchgrass.
Tolerant Turfgrasses: Apply to couchgrass (common and hybrid couchgrass) and Zoysia grass only. Do not apply to Queensland Blue Couch, Centipedegrass, and cool-season grasses, such as fescues, ryegrasses, bentgrasses, and bluegrasses.
Use Pattern: Foramsulfuron can be used to control Poa spp., crowsfoot, ryegrass, and intolerant warm-season turfgrasses. It is also effective for the removal of "clump" fescue and ryegrass and also as a spring transition aid in overseeded couchgrass.
Overseeding Restriction:  Ryegrass can be overseeded after one week whereas sprigging of couch grass should be left for two weeks after application.
Usage: No irrigation or rainfall for 2 hours after application ensures the best results. Consequently, allow foramsulfuron to dry before allowing traffic avoids damage to susceptible cool-season turfgrasses. Unfortunately, tracking can also occur after morning dew the day following treatment. So irrigate the morning after application and for increased safety leave a 3-meter buffer area around creeping bentgrass areas.
Air temperature affects the speed of activity. Warmer temperatures lead to faster removal. Temperatures of 21°C and higher give results in one week or less. At temperatures of 15°C or lower, removal can take two to three weeks or longer.
Weeds Controlled: Foramsulfuron provides excellent control (>90%) of many troublesome cool-season grass species such as Poa annua, ryegrass, and clump fescue.  Finally, it is quite effective for the post-emergent control of crowsfoot.
The image below shows tracking of Tribute on a mixed Poa/bentgrass green.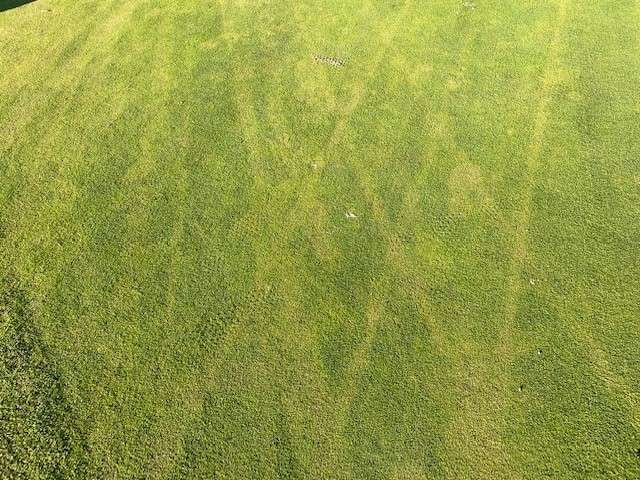 Prosedge® (750g/kg Halosulfuron).
General: For the control of yellow and purple nutsedge and Mullumbimby couch.
Tolerant Turfgrasses: All cool and warm season grasses are tolerant to halosulfuron applications.
Target weeds: This is used mainly to control sedges (Cyperus spp.). It is most effective when sedge plants are between the 3 and 8 leaf stages. Also, repeat applications, 6 to 10 weeks apart, are often required to control dense infestations. Finally, no more than a total of 200g/Ha is recommended per season.
Overseeding Restriction:  None.
Usage: Halosulfuron is rainfast after 3 hours, with best results occurring, when no rainfall or irrigation occurs within 4 hours of application. After 7 – 10 days the first symptoms of the herbicide working can be seen. The full effects are generally apparent after 4-6 weeks. Appy with a non-ionic surfactant at 20ml/10L to ensure uptake.
Weeds Controlled: 80 to 100% control of yellow and purple nutsedge can be achieved, dependent on weed size and age. Moreover, purple nutsedge is generally considered to be more sensitive to halosulfuron than yellow nutsedge.
Coliseum® (250g/kg Rimsulfuron).
General: Control of Poa annua before overseeding couchgrass and also as a spring transition aid in overseeded couchgrass.
Tolerant Turfgrasses: Couchgrass.
Use Pattern: Rimsulfuron may be applied on sod farms, professional sports fields, and golf courses and is absorbed by both plant roots and foliage. Irrigation 1 hour after application will move the herbicide into the soil and further increase herbicidal effectiveness. When irrigating, care must be used to prevent surface runoff as rimsulfuron can move laterally with water. Consequently, extreme caution must be exercised when applying rimsulfuron near, or on slopes that drain onto, cool-season grasses. Ideally, short, frequent, irrigation cycles are most effective to incorporate rimsulfuron without producing runoff. Lastly, although tracking and runoff seldom result in the death of bentgrass, off-colour, and growth reduction can persist for 14 days, or longer, depending on weather and fertility.
Always add non-ionic surfactant (1000 g/L – non buffering type) at 250mL/100 L (0.25 % v/v) of final spray volume.
Overseeding Restriction:  Oversowing with cool-season turfgrasses should be delayed for 10 days after herbicide application.
Weeds Controlled: Rimsulfuron provides >90% control of several grass species, for example ryegrass, fescue, and Poa annua, and broadleaf species such as common chickweed and spotted spurge.
Monument® (750g/kg Trifloxysulfuron).
General: Trifloxysulfuron is used for broadleaf weed, sedge, and Poa annua control in couchgrass or as a transition aid for removing overseeded ryegrass.
Tolerant Turfgrasses: Couchgrass is tolerant to trifloxysulfuron whereas other turfgrass species are not tolerant to trifloxysulfuron.
Overseeding Restriction:  Oversowing should be delayed for 6 weeks after herbicide application. Couchgrass can be sprigged or seeded 4 weeks after herbicide application.
Use Pattern: Trifloxysulfuron may be applied on golf courses, sod farms, and other non-residential sites. On newly established turfgrasses trifloxysulfuron applications should be delayed until 100% ground cover, and a 50mm root depth is achieved.
Use: If necessary repeat applications are often needed for control of particularly troublesome weeds such as sedges and tall fescue, 4 to 6 weeks after the first application. Last of all, do not exceed an annual application total of 113g/Ha per year. Trifloxysulfuron being rainfast within 3 hours of application.  
Duke®/Destiny® (100g/kg Iodosulfuron-methyl )
General: This is used to suppress winter grass and for suppression and seed head reduction of bahiagrass. Iodosulfuron also controls ryegrass, bindii, black thistle, cat's ear, Cotula, cudweed, Guildford grass (Onion Grass), Medic, Mouse-ear chickweed, Oxalis, White Clover, and False onion weed/ fragrant false garlic/ onion weed.
Tolerant Turfgrasses: Only apply to Kikuyu, buffalograss, or couch grass (common and hybrid couchgrass NOT Queensland Blue Couch).
Overseeding Restriction:  Allow at least six weeks between the last application and overseeding with cool season grasses
Use Pattern: Growth immediately slows within the first few days after application coupled with the appearance of chlorotic patches. Later on slow-shoot necrosis occurs. Lastly, plants will be completely killed 4 to 6 weeks after application under good growing conditions. Iodosulfuron can be transferred or 'tracked', so to minimize this risk, irrigate treated areas after application, and allow at least 4 hours for chemical uptake. Application to very dry sandy soils followed by soaking rainfall and also to highly alkaline soils (soil pH >8.5) may also cause turf damage.
Iodosulfuron is mainly a foliar herbicide with less activity via the soil. Consequently, it is recommended to use a water rate of 200-500 L/ha
Use: If the tank water pH is less than 5.5 raise the water pH to 7.0 and do not mix with acid-forming compounds. Being a Group 2 herbicide do not make more than one application in a season except for Bahiagrass. Lastly, always apply with a non-ionic surfactant or Hasten® at the recommended rate on the surfactant product label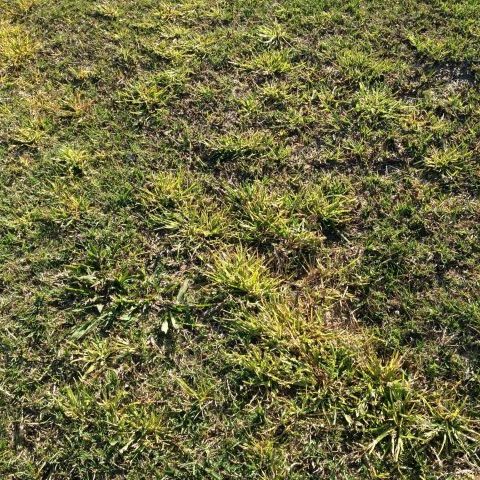 Negate® (Rimsulfuron and Metsulfuron-methyl 167 g/kg and 200 g/kg) 
General: Used to control Winter grass, Ryegrass, Onion grass, and certain broadleaf weeds including; Bindii, Caustic Weed, White Clover, Cobblers Peg, Creeping Indigo, Creeping Oxalis, Plantain, and Tridax Daisy.
Tolerant Turfgrasses: Can be safely used on Common Couch, Hybrid Couch, Zoysia, and Qld Blue Couch.
Overseeding Restriction:  6 weeks
Use Pattern: Negate® is both shoot and root absorbed, being rainfast with 4 hours. Initially Negate® is absorbed through the foliage of plants and then rapidly inhibits the growth of susceptible weeds. After 1-3 weeks, leaves of susceptible plants appear chlorotic, and subsequently die. In warm, moist conditions, herbicide symptoms are accelerated; conversely, in cold, dry conditions, herbicide symptoms are delayed.
Shoot Absorption
Once the herbicide covers the leaf surface of the target weed, it is translocated throughout the plant. Next this then causes internal plant toxicity and finally death. Negate® is truly systemic and consequently moves throughout the plant.
Root Absorption
Equally important, any herbicide that is not absorbed by the foliage can also be absorbed by the plant's root system as the product moves downward through the soil.
Use: The Negate® product label states that annual ryegrass may need treating again after 4 to 6 weeks.
General: This is registered to control winter grass (Poa annua) in creeping tall fescue, bentgrass, and perennial Ryegrass. It also suppresses seed heads of Poa annua.
Tolerant Turfgrasses: Can be safely used on Common Couch, Hybrid Couch, Zoysia, and Qld Blue Couch.
Overseeding Restriction: After an application of Nominee® do not seed creeping Bentgrass, Perennial Ryegrass, or Tall Fescue for at least 42 days. Do not apply Nominee® for at least 42 days after seeding creeping Bentgrass, perennial ryegrass, or tall fescue.
Use Pattern: Bispyribac-sodium is primarily root absorbed and then translocated to the shoots.
Do not mix with a surfactant or crop oil as it causes unacceptable chlorosis in tolerant turf;
Nominee® claims to be slow acting. However, the image below shows this isn't always the case which means control can be "variable";
Do not apply to stressed turf;
If rain is expected within twelve hours of application do not apply and finally
Do not irrigate or mow for 24 hours after application.
Research
Bispyribac-sodium can be used to control Poa annua in creeping bentgrass at rates ranging between 60 and 140 g ha-1.
Two applications of bispyribac-sodium on a creeping bentgrass fairway at 74 g a.i. /ha in the summer can reduce Poa annua cover while reducing creeping bentgrass injury.
McCullough and Hart (2010) found the most successful bispyribac sodium regime for Poa annua control in creeping bentgrass was 24.6 g a.i. ha−1 applied weekly for up to 2 months. This reduced Poa annua by 90% after 8 wk with acceptable levels of creeping bentgrass discoloration. After 8 wk, all regimes reduced turf quality as a result of voids in turf following winter grass control; regimes with six applications reduced turf quality the most.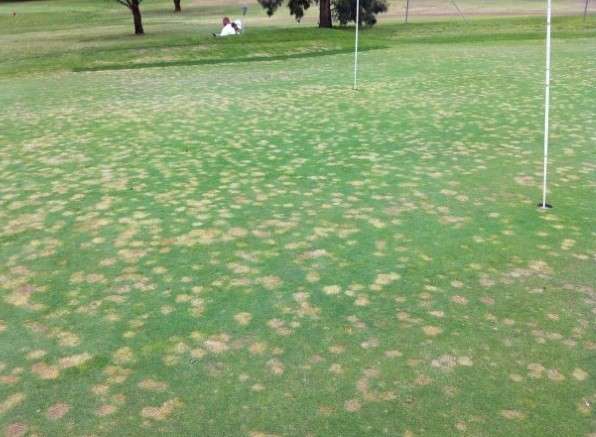 Summary of the sulfonylurea herbicides in the turf industry.
Sulfonylurea herbicides are and will continue to be highly useful turf herbicides. Careful selection of the appropriate sulfonylurea herbicide enables turfgrass managers to effectively control a wide range of weeds. Additionally, many sulfonylurea herbicides can be used as a spring transition aid to remove perennial ryegrass and Poa trivialis from couchgrass oversown the previous autumn.
Finally, all of the SU herbicides have the same mode of action as they are categorized as being in Group 2. Certain weed species have naturally-occurring biotypes that are resistant to these herbicides. Consequently, their continued use, while not rotating to herbicides with a different mechanism of action can lead to the development of sulfonylurea-resistant resistant weeds.
Table showing weed efficacy of sulfonylurea herbicides.
E = >90% F = 70-80%

G = 80-90% P = <70%

A blank space indicates that weed response is not known.
The information is provided by Gilba Solutions Pty Ltd and while we endeavour to keep the information up to date and correct, we make no representations or warranties of any kind, express or implied, about the completeness, accuracy, reliability, suitability or availability with respect to the website or the information.
© 2022, Gilba Solutions Pty Ltd, All rights reserved