References
1

Murphy T. R, Sedge Biology and Control in Warm-Season Turf, https://slideplayer.com/slide/1628216/

2

Siriwardana G, Nishimoto RK. 1987. Propagules of purple nutsedge (Cyperus rotundus) in soil. Weed Technology 1:217-220.

3

Brecke, B. J., Stephenson, D. O. IV, and Unruh, J. B. 2005. Control of purple nutsedge (Cyperus rotundus) with herbicides and mowing. Weed Technol. 19:809–814.

4

Stoller, E.W., and R.D. Sweet. 1987. Biology and life cycle of purple and yellow nutsedges (Cyperus rotundus and C. esculentus). Weed Technology 1: 66-73.

5

Rao AS, Reddy KN. 1999. Purple nutsedge (Cyperus rotundus) and sicklepod (Senna obtusifolia) response to glyphosate mixtures with ALS-inhibiting herbicides. Weed Technology 13:361- 366.

6

Vencill WK, Richburg JS III, Wilcut JW, Hawf LR. 1995. Effect of MON-12037 on purple (Cyperus rotundus) and yellow (Cyperus esculentus) nutsedge. Weed Technology 9:148-152.

7

Webster TM, Coble HD. 1997. Purple nutsedge (Cyperus rotundus) management in corn (Zea mays) and cotton (Gossypium hirsutum) rotations. Weed Technology 11:543-548.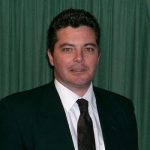 After Graduating from Newcastle University with an Hons Degree in Soil Science in 1988, Jerry then worked for the Sports Turf Research Institute (STRI) as a turf agronomist before emigrating to Australia in 1993.
He followed this by gaining a Grad Dip in Business Management from UTS. He has worked in a number of management roles for companies as diverse as Samsung Australia, Arthur Yates and Paton Fertilizers.
He has always had a strong affinity with the Australian sports turf industry and as a result he established Gilba Solutions as an independent sports turf consultancy in 1993. Jerry has written over 100 articles and two books on a wide range of topics such as Turf Pesticides and Nutrition which have been published in Australia and overseas.