The key to the successful use of pre-emergent herbicides is understanding their specific properties and how they behave in the soil. Failing to know how these work can lead to problems as shown in the image above. Here ryegrass has germinated whilst diflufenican is still active.
When not to use
If your existing turf is thin or stressed, exhibits a weak root system or you intend to overseed or renovate then you should think about whether using these is right for you as these operations will directly effect the success of any application
.
Pre-emergent herbicides prevent germinated weed seedlings from becoming established by forming a barrier at the soil surface
. They can inhibit the growth of the root, the shoot and t
he herbicide must be washed into the soil, and be present when the weed seeds are germinating to be effective
. Read more
here
.
How well a pre-emergent herbicide works is a combination of its solubility, how well it binds to clay and organic matter, the prevailing climatic conditions, and the rate of application
. The following is an overview of these factors but if you want a more detailed overview check
this
out. Remember, all pre-emergent herbicides do not work the same way!
Factors impacting the successful use of pre-emergent herbicides:
Volatilization.
Some pre-emergent herbicides suffer from volatilization. This means they will turn into gas after application if left on the soil surface.
The table below gives a pre-emergent herbicide comparison of their tendency to volatilize
.
Those toward the top of this table have a higher tendency to volatilize compared to those toward the bottom
.
This means that herbicides with a higher vapour pressure will need more urgent watering as losses can begin as soon as the spray has dried
. In contrast, those with low vapour pressure do not need immediate watering with indaziflam (
Specticle
®) for example having a watering window of 21 days after application.
Volatilization will be the greatest under windy, hot temperature conditions with l
abel references to the period for watering
being determined by
manufacturers as the time after which losses may start to become
unacceptably
high
.
Vapour pressure for common pre-emergent turf herbicides.

Actives with a vapour pressure of greater than 1mPa are generally considered volatile.

dimethenamid-P (Freehand)

oxadiazon (Ronstar/Echelon)

terbuthylazine (Numchuk Quad)

Actives with a vapour pressure of less than 1mPa are generally considered non-volatile

Prodiamine (Barricade/Onset 10GR)
Persistence.
The rate of herbicide persistence is usually reported as a DT50 value and this value is the number of days that it takes for 50% of the herbicide in the soil to break down. Soil longevity depends upon the soil type, breakdown speed, and application rate with the breakdown rate varying between different soils and environmental conditions.
Average DT50* values for common pre-emergent herbicides.

dimethenamid-P (Freehand)

terbuthylazine (Numchuk Quad)

30 to 100 Moderately persistent

prodiamine (Dimension/Onset 10GR)

oxadiazon (Ronstar/Echelon)
Not Watering in the Product.
Many pre-emergent herbicides
are taken
up by the roots of germinating weeds. This means good soil moisture needs to be present as when the soil is dry the weed cannot take the herbicide up meaning they fail to provide good weed control. An exception to this is oxadiazon (
Ronstar®
or
Echelon®
) which works on the shoot and not the root.
Pre-emergent solubility does not mean how
easily
the product dissolves. It means the
maximum
concentration of a product in a volume of water as some chemicals
readily
go into solution but have low solubility while others are difficult to dissolve but once dissolved have high solubility.
Herbicides with low solubility (see Table below) generally
require
larger water volumes to wash them in and
 also need very good moisture conditions after application and for the period of desired control
.
Those with high solubility are
relatively
easy to water in within 2 or 3 days and even herbicides that generally bind
relatively
tightly
can still
be lost
if high-intensity rainfall occurs immediately after application
.
Solubility of common pre-emergent turf herbicides.

Prodiamine (Barricade/Onset 10GR)

oxadiazon (Ronstar/Echelon)

Low solubility (0 to 49mg/L @ 20C). Likely to require moist conditions for incorporation and uptake.

terbuthylazine (Numchuk Quad)

High solubility (> 501mg/L @ 20C).

dimethenamid-P (Freehand)
Soil properties.
Organic matter and soil texture (the ratio of sand, silt, and clay) affect the binding ability of pre-emergent herbicides. Clay soils and those with high amounts of organic matter will potentially adsorb more herbicide. This will result in higher application rates to achieve weed control due to less being available for uptake by germinating weeds. Conversely, pre-emergent herbicide movement out of the profile will increase in:
Coarser soils such as those with higher sand contents.
As soil organic matter decreases.
Sloped areas and
In areas of thin turf cover.
The sorption coefficient (Koc) is a measure of the tendency of a chemical to bind to soils, corrected for soil organic carbon content. Chemicals with a high Koc will have less chemical available for weed uptake and microbial degradation.
Commonly used pre-emergent herbicides for their ability to bind to the soil (from least to highest):  Indaziflam < Dithiopyr < Oxadiazon < Pendimethalin = Prodiamine.
Average adsorption coefficients for common pre-emergent turf herbicides.

Likely to bind tightly to soil and organic matter

Prodiamine (Barricade/Onset 10GR)

oxadiazon (Ronstar/Echelon)

Koc 500 to 4000 slightly mobile

terbuthylazine (Numchuk Quad)

Koc 75 to 500 moderately mobile

dimethenamid-P (Freehand)
Chemical Breakdown.
Herbicide breakdown in the soil occurs mainly by microbial degradation, although chemical reaction (hydrolysis) can also play a role. Faster breakdown occurs with warmer temperatures, excessive soil moisture, adequate oxygen and nutrients, and neutral pH resulting in less persistence of the herbicide.
Poor timing.
Incorrect application timing has a major impact, as once weeds have germinated, it is generally too late. As a general guide applying when you can see weeds is a waste of time as there are probably a larger number of weeds hidden in the turf canopy that you can't see and the table below shows critical soil temperatures for common weeds (measured at 10cm depth) courtesy of North Carolina State University.
| | |
| --- | --- |
| Weed |          Temperature °C |
| Poa annua / winter grass | 21 |
| Crowsfoot (Eleusine indica) | 16-18 |
| Summergrass | 12-15 |
Because of higher temperature requirements for germination, crowsfoot normally germinates two-to-eight weeks later in spring than summergrass and as a rule of thumb, aim to apply a pre-emergent herbicide two weeks before summergrass germination.
If for some reason you can't apply before weed germination, there are a few options that have a wider window of application to provide consistent results with a good example of this being Dimension® (dithiopyr)  which can control summergrass before it emerges as well in the early post-emergent stage.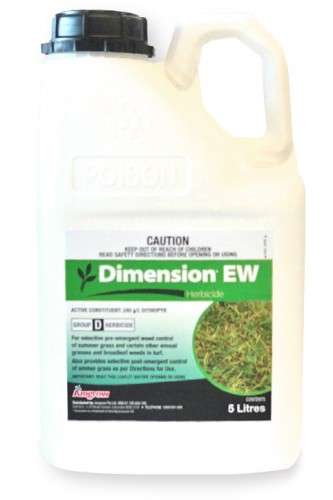 Getting the best results:
Make sure your application equipment is properly calibrated.
Correct equipment calibration is important whether using a granular or a liquid formulation.
Picking products based on price.
Making a purchase decision purely on price does not guarantee good results instead, you should select the best pre-emergent for your particular situation.  The best way of ensuring the successful use of pre-emergent herbicides is to work out the application cost and also take into consideration longevity. If the active ingredients are the same between a generic and a branded product, consideration should also be given to the ease of application and handling that the product offers. For example, both Barricade® and Onset 10GR® contain the active prodiamine but one is a liquid and the other a granule.
Are Granular or liquid applications best for the successful use of

 
pre-emergent herbicides

?

Liquid and granular pre-emergent herbicides are

equally

effective in controlling susceptible weeds but whichever

is used

they must be

uniformly

applied for control.

These have become popular due to their ease of use as they allow you to carry out two operations at the same time with

 Oxafert®, Echelon® (oxadiazon), and

Onset 10GR

® (prodiamine) are good examples.

Particle size, uniformity of particle size, and application equipment determine the evenness of the application with as particle size decreases, the density of particles per unit area increases. Uniform particle sizes are important to prevent ballistic segregation. Onset 10GR® has a 1-2mm particle size and so gives excellent coverage when applied at label rates.

 

Influence of formulation particle size on summergrass control 6 months after treatment with pre-emergent herbicides. (Kelly and Coats, 1999)
| | | |
| --- | --- | --- |
| Particle size number/ gram | Oxadiazon | Prodiamine |
| 23 | 58 | 43 |
| 58 | 67 | 71 |
| 165 | 72 | 74 |
| 465 | 72 | 81 |
| 1,310 | 70 | 82 |
| 3,728 | 66 | 83 |
| 10,606 | 68 | 83 |
| LSD (0.05) | 7 | 7 |
S

uccessful use of 
pre-emergent herbicides;

Generic vs branded?

When a generic product is registered in Australia It theoretically performs equivalent to other registered products and this similarity between the products is reflected in the labels of generic and proprietary products having the same application rates.

However, one exception to this rule is metolachlor. In the Australian turf market, there are two registered metolachlor formulations and these are Meteor® (Amgrow) and Pennmag® (Syngenta) and although both contain the same amount of active ingredients there is an argument for their not being exactly the same.
Isomers.
An isomer is a compound that has the same chemical formula but the molecular composition is made up slightly differently. A good example of this would be your left and right hands. They are the same but one is the mirror image of the other and these are called stereoisomers. During the manufacturing process of metolachlor, all products contain a blend of four isomers.
Pennmag® contains approximately 88% of what is called the S isomer and approximately 12% of R isomers. Meteor® contains approximately equal ratios of S and R isomers. Research has shown that a high content of S-metolachlor means that it theoretically works better meaning not that the R-metolachlor doesn't work but it just doesn't work as well. 1980's Ciba research showed that it had approximately 50% less activity with  a combination of S and R metolachlor also having less activity. When the S metolachlor-dominated formulation was introduced in the USA the rate was reduced by 30% to account for the enhanced activity of S-metolachlor.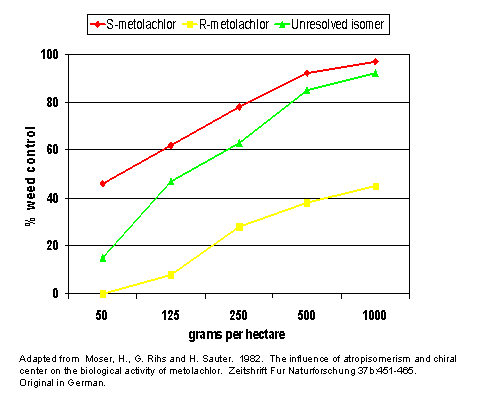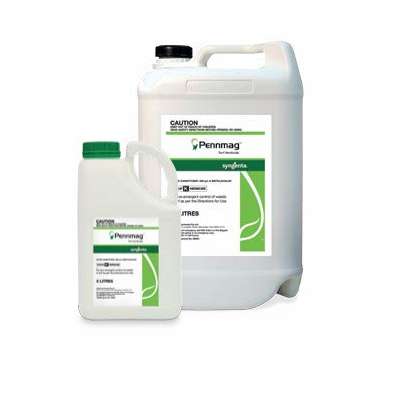 Rotate the chemistry
As with all chemicals a key to the successful use of pre-emergent herbicides is rotating the chemistry to ensure that you minimize the development of weed resistance and ideally, you should try and rotate products with different modes of action every third or fourth year.
Turf safety in

successfully using
pre-emergent herbicides.
With such a large range of pre-emergent options to choose from these can vary dramatically on their safety and in what situations you are legally allowed to apply them! The table below shows the comparative safety of Australian turf registered pre-emergent herbicides.
Another factor to consider with turf safety is the reseeding interval following application. Due to their very nature, if the chemical is still active in the soil seeding will be a failure and so you should always ensure that seeding is carried out after the reseeding period stated on the label.
| | | | | | | | | | |
| --- | --- | --- | --- | --- | --- | --- | --- | --- | --- |
| | | | | | | | | | dimethenamid-P (Freehand+) |
| | | | | | | | | | |
| | | | | | | | | | |
| | | | | | | | | | |
| | | | | | | | | | |
| | | | | | | | | | |
| | | | | | | | | | |
| | | | | | | | | | |
| | | | | | | | | | |
| | | | | | | | | | |
| | | | | | | | | | |
| | | | | | | | | | |
| | | | | | | | | | |
| | | | | | | | | | |
The final factor to consider for the  successful use of pre-emergent herbicides and it's an important one, is what effect these have on the existing roots of the turf. Many of these pre-emergent herbicides will tend to prune or develop club roots so if your turf is stressed or already has a poor root system using these will only make a bad situation worse.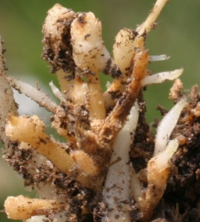 The image above is courtesy of J. Neal NC State Extension
The degree of root pruning that occurs is a direct result of the chemical used and the turf type your using it on as some are more susceptible to this than others.
2018 work looked at how these affected root architecture and the establishment of hybrid couch grass. The results did throw up a couple of  major surprises:
Specticle® failed to achieve a 50% hybrid couchgrass cover by the end of the experiment.
Only Ronstar® did not increase the number of days required to reach 50% cover.
All herbicide treatments reduced root mass when harvested 6 weeks after treatment (WAT) relative to the nontreated.
By 10 WAT, Barricade®, pendimethalin, and Specticle® reduced dry root mass compared with the nontreated.
At 4 WAT, all treatments other than Ronstar® reduced root length when compared with the nontreated.
By 10 WAT, only Dimension®, S-metolachlor alone, and Specticle® reduced root length when compared with the nontreated.
Results suggest that Specticle®, Dimension®, and S-metolachlor are not safe on newly established hybrid couchgrass and should be avoided during establishment.