The use of granular pre-emergent herbicides by turf managers and lawn lovers is now standard practice. Pre emergent herbicides like Barricade® herbicide are widely in use to control grass weeds like crows foot grass and summergrass. In conjunction with this, the practice of making split applications is becoming increasingly common. In recent years however, granular products have become increasingly common.
Granular herbicides are prone to many issues affecting herbicide performance that liquid suffers from.
In the late 1990's Scotts Pre-M was the first granular herbicide in Australia. This was a pendimethalin-based granular product and a huge success with councils and sports turf managers due to its ease of use. With one application you had done your weed control and fertilizing. There were two issues with these: Firstly the cost and secondly, you were stuck with a specific fertilizer analysis that didn't always meet your needs.
Since then, other granular herbicides have followed. Examples include the following, all of which are herbicide granules: Ronstar (oxadiazon), Echelon G® and Oxafert® based on oxadiazon. There are now several granular products on the market, in a range of granule sizes and with different longevities. The newest granular pre-emergent herbicides for lawns and turf are Echelon Duo® and Onset®10GR. These both help control Crows foot grass, parramatta grass and summergrass in turfgrass and lawn areas.
Echelon Duo®
Echelon Duo® is a granular pre-emergent herbicide that also contains a residual insecticide and a balanced 15-1-17 NPK fertilizer. So, in one application, you can achieve three treatments. Prevent weeds and insects and also feed your turf. Echelon Duo® has the following benefits:
First, it needs minimal mixing or measuring;
Second, it is easy to spread;
Third, due to its clear labelling, it is easy to work out the application rate;
It contains the proven pre-emergent herbicide oxadiazon which is also the active in Oxafert®. It provides up to 3 months control from one application; oxadiazon works against summergrass, crows foot weed, winter grass and creeping oxalis;
The insecticide thiamethoxam provides residual insect control for up to 6 months; it works against black beetle, Argentinian scarab and billbug;
Echelon Duo® is very safe to use. As it has no odour, smell or vapour there is little exposure to the chemical;
Being a granular herbicide if there are any spillages these can be easily swept up;
There are significant cost savings from using Echelon Duo® as hand application equipment is cheap compared to spray equipment;
It is available in easy to use 5kg pack and also a 20kg pack for larger areas.
Echelon Duo® is registered for lawns and larger turf areas.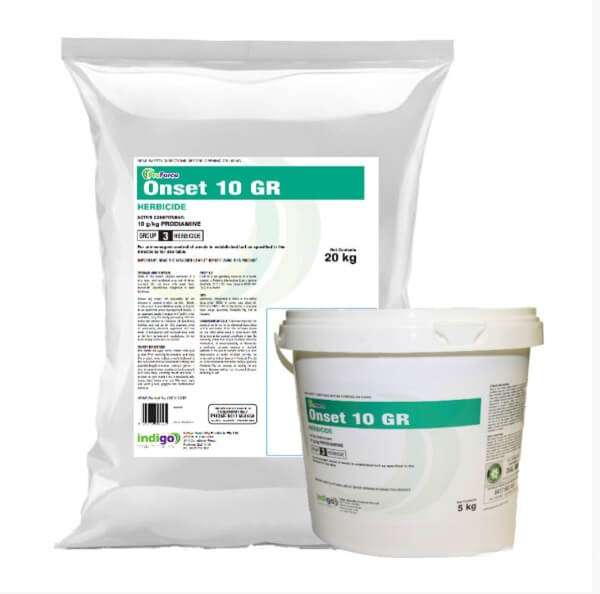 Onset 10GR®
Onset 10GR® is a new granular pre-emergent herbicide and lasts for up to 6 months after one application, Onset 10GR®:
Stops a wide range of weeds including barnyard grass, summer grass, African love grass, crows foot grass, paspalum and winter grass;
It is an excellent granular product to use against Parramatta grass;
The herbicide granules contain the pre-emergent herbicide prodiamine which is the active in Barricade® pre-emergent herbicide;
It is safe to use on couch, zoysia, QLD blue, and Kikuyu;
Unlike many granular herbicides you do not need to water it in immediately;
The uniform prill size ensures excellent coverage;
Onset 10GR® is available in 5kg and 20kg pack sizes.
More detailed information is on the Onset 10GR product label.
How Onset 10GR® granular pre-emergent herbicide works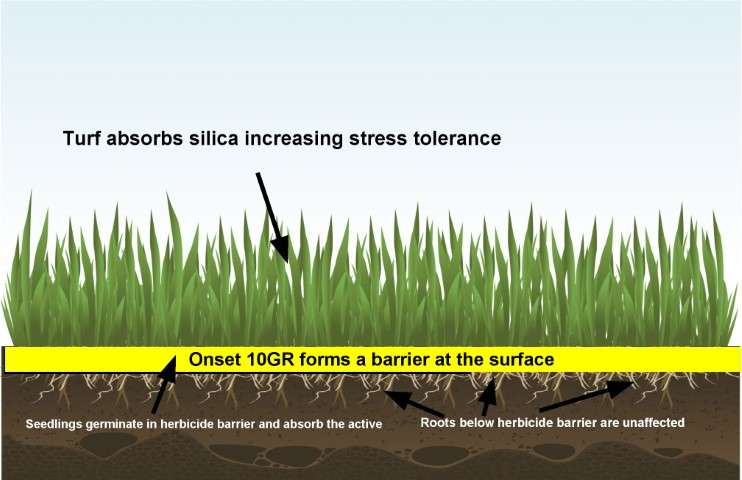 Which is the best granular pre-emergent herbicide?
A 2019 study on granular pre-emergent herbicides looked at how well they work on summergrass weed. The only products included in this study and available in Australia are Specticle® liquid pre-emergent herbicide and BASF Freehand®. After 22 weeks they found that summer grass cover was 51% and 66% respectively.
How to calibrate a spreader for a granular pre-emergent herbicide.
Correctly calibrating a spreader to use a pre emergent herbicide is important so that any application is at the correct rate. The application width and rate will vary with the walking speed, physical nature of the fertilizer, and spreader settings. So each time someone else uses a spreader it will need recalibrating.
First, fill a fertilizer hopper with your product of choice. We can help with your choice of which pre-emergent herbicide to use;
Second, walk over a plastic sheet at your normal walking pace. This shows the application width. By using a plastic sheet you do not waste any product as you can pick up and reuse it. The application width shows you how far apart you should make passes to give an even application with no overlap. In this example we will say it is 3m;
Third, check the application rate and adjust the spreader settings;
Then fill the hopper with the required amount of granular pre-emergent i.e. 5kg (5000g);
Next, walk over a set distance at your usual pace i.e. 20m;
Empty the hopper and weigh the remaining contents. For example, 2kg (2000g);
Calculate the area by multiplying the application width (found in 2) by the distance walked (20m);
The formula to calculate the application rate is:
Original amount in the hopper (5kg), minus the amount left after spreading (2kg). So you applied 3000g over 20m.
The area is the distance (20m) * the width 3m = 60m2
weight applied/area = application rate/m2 = 3000/60 = 50g/m2
Spreader settings
Spreader settings are established using standard equipment available from the spreader manufacturer at typical swath widths and speeds. Variables such as walking speed, terrain, particle size, density, and spreader condition affect these settings. Spreader settings are intended as a guide and you should still carry out calibration to ensure proper application rates. The intention of these spreader settings is not to replace calibration.
Disclaimer
The information is provided by Gilba Solutions Pty Ltd and while we endeavour to keep the information up to date and correct, we make no representations or warranties of any kind, express or implied, about the completeness, accuracy, reliability, suitability or availability with respect to the website or the information.
© 2022, Gilba Solutions Pty Ltd, All rights reserved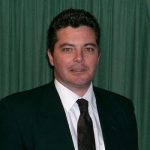 After Graduating from Newcastle University with an Hons Degree in Soil Science in 1988, Jerry then worked for the Sports Turf Research Institute (STRI) as a turf agronomist before emigrating to Australia in 1993.
He followed this by gaining a Grad Dip in Business Management from UTS. He has worked in a number of management roles for companies as diverse as Samsung Australia, Arthur Yates and Paton Fertilizers.
He has always had a strong affinity with the Australian sports turf industry and as a result he established Gilba Solutions as an independent sports turf consultancy in 1993. Jerry has written over 100 articles and two books on a wide range of topics such as Turf Pesticides and Nutrition which have been published in Australia and overseas.