References
1

Hayat Q, Hayat S, Irfan M, Ahmad A. Effect of exogenous salicylic acid under changing environment: A review. Environ Exp Bot. 2009;68:14–25. doi: 10.1016/j.envexpbot.2009.08.005.

2

Khan MIR, Fatma M, Per TS, Anjum NA, Khan NA (2015) Salicylic acid-induced abiotic stress tolerance and underlying mechanisms in plants. Front Plant Sci 6:462.

3

Malamy, J., Hennig, J., and Klessig, D. F. (1992). Temperature-dependent induction of salicylic acid and its conjugates during the resistance response to tobacco mosaic virus infection. Plant Cell 4, 359. doi: 10.1105/tpc.4.3.359

4

Yang Y, Shah J, Klessig DF. 1997. Signal perception and transduction in plant defence responses. Genes ant1 Develop 11:1621-39.

5

Rahman A, Kuldau GA, Uddin W. Induction of salicylic acid-mediated defence response in perennial ryegrass against infection by Magnaporthe oryzae. Phytopathology. 2014 Jun;104(6):614-23.

6

Sha Liu, Joseph Vargas, Emily Merewitz, Jasmonic and salicylic acid effects on bacterial etiolation and decline disease of creeping bentgrass, Crop Protection Volume 109, July 2018, Pages 9-16

7

Molinari S, Salicylic acid as an elicitor of resistance to root-knot nematodes in Tomato, ISHS Acta Horticulturae 789: XV Meeting of the EUCARPIA Tomato Working Group

8

El-Sherif, A.G.;* Gad, S. B.; **Khalil, A.M. & ***Mohamedy, Rabab H.E. 2015. Impact of Four Organic Acids on Meloidogyne Incognita Infecting Tomato Plants under Greenhouse Conditions, Global Journal of Biology, Agriculture and Health Sciences, Vol.4(2):94-100

9

O. Ozinger, Effects of methy salicylate, methyl jasmonate and Cis-Jasmone on thrips Tabaci Lindeman, 2012,University of Natural Resources and Life Sciences, Vienna Division of Plant Protection

10

Iversonlo A, Inverson L, and Eshita S, The Effects of Surface-Applied Jasmonic and Salicylic Acids on Caterpillar Growth and Damage to Tomato Plants, OHIO J SCI 101 (5):S)O-94, 2001

11

Homayoonzadeh M, Moeini P, Khalil Talebi K, Allahyari H,Torabi E, Michaud JP, Physiological responses of plants and mites to salicylic acid improve the efficacy of spirodiclofen for controlling Tetranychus urticae (Acari: Tetranychidae) on greenhouse tomatoes, Exp Appl Acarol. 2020 Nov;82(3):319-333

12

Vilela de Resende JT, Rafael Matos R, Zeffa DM, Constantino LV, Alves SM, Ventura MU, Resende NCV, Youssef K, Relationship between salicylic acid and resistance to mite in strawberry, Folia Hort. 33(1) (2021): 107–119

13

Rossi CAM 1, Marchetta EJR, Kim JH, Castroverde CDM, Molecular regulation of the salicylic acid hormone pathway in plants under changing environmental conditions, Trends in Biochemical Sciences, Volume 48, Issue 8, August 2023, Pages 699-712

14

Larkindale, J, and Huang, B. (2004). Thermotolerance and antioxidant systems in Agrostis stolonifera: involvement of salicylic acid, abscisic acid, calcium, hydrogen peroxide, and ethylene. J. Plant Physiol. 161, 405–413.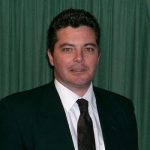 After Graduating from Newcastle University with an Hons Degree in Soil Science in 1988, Jerry then worked for the Sports Turf Research Institute (STRI) before emigrating to Australia in 1993.
He followed this by gaining a Grad Dip in Business Managment from UTS and has worked in a number of managment roles for companies as diverse as Samsung Australia, Arthur Yates and Paton Fertilizers.
He has always had a strong affinity with the Australian sports turf industry and as a result he established Gilba Solutions in 1993. Jerry has written over 100 articles and two books on a wide range of topics such as Turf Pesticides and Nutrition which have been published in Australia and overseas.