References
1

Hampy, H.D., Van Ryzin, B.J., Butler, E.L., Kerns, J.P., Etiology and management of Pythium root rot in golf course putting greens, Int Turfgrass Soc Res J.2022;14:851–860

2

Gu, M., Bermudagrass root rot complexes associated with plant parasitic nematodes and pythium species on golf courses in Florida, May 2019, Abstract of Dissertation Presented to the Graduate School of the University of Florida in Partial Fulfillment of the Requirements for the Degree of Doctor of Philosophy

3

Kerns, J.P., Pythium in golf course putting greens, Golf Dom, November 23, 2021

4

Kerns, J.P., Soika, M.D., and Tredway, L.P., 2009. Preventative control of Pythium root dysfunction in creeping bentgrass putting greens and sensitivity of Pythium volutum to fungicides. Plant Disease. 93(12): p. 1275-1280.

5

Kerns, J.P., Biology and management of Pythium root dysfunction in North Carolina.   North Carolina State University ProQuest Dissertations Publishing,  2008. 3329206.

6

https://www.golfcourseindustry.com/news/turftip-050415-golembiewski-pythium-expert/

7

Koh, K.J., et al. "Shade and airflow restriction effects on creeping bentgrass golf greens." Crop Science, vol. 43, no. 6, Nov.-Dec. 2003, pp. 2182.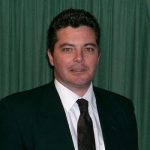 After Graduating from Newcastle University with an Hons Degree in Soil Science in 1988, Jerry then worked for the Sports Turf Research Institute (STRI) as a turf agronomist before emigrating to Australia in 1993.
He followed this by gaining a Grad Dip in Business Management from UTS. He has worked in a number of management roles for companies as diverse as Samsung Australia, Arthur Yates and Paton Fertilizers.
He has always had a strong affinity with the Australian sports turf industry and as a result he established Gilba Solutions as an independent sports turf consultancy in 1993. Jerry has written over 100 articles and two books on a wide range of topics such as Turf Pesticides and Nutrition which have been published in Australia and overseas.