Hydroforce Recharge soil wetting agent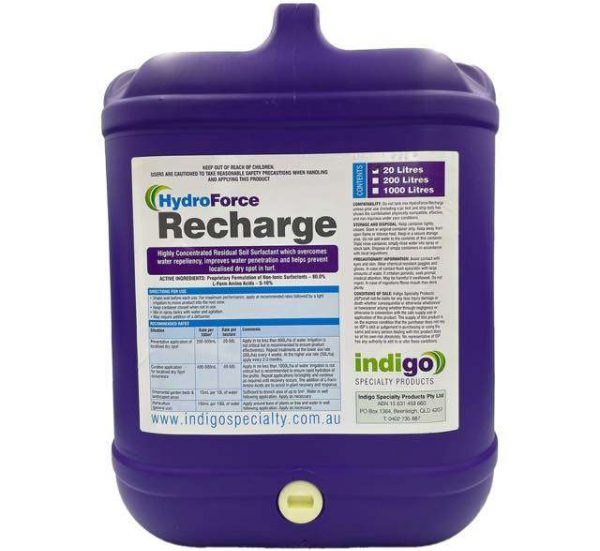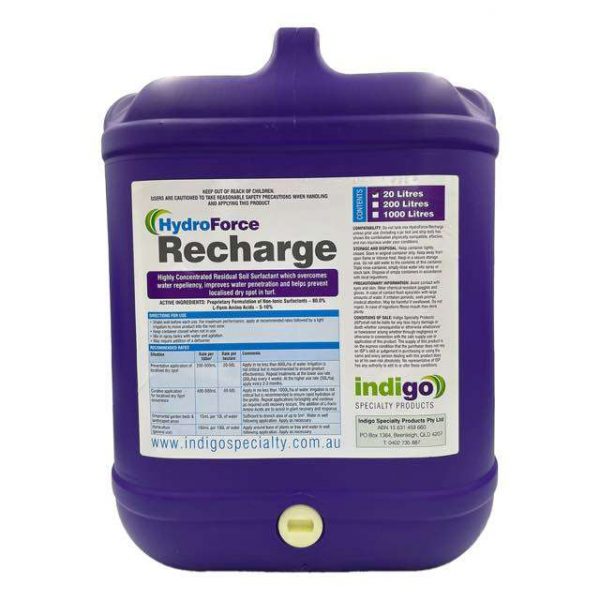 Hydroforce Recharge is a premium soil surfactant developed and trialled in Australia. It gives consistent results in all climates and soil conditions but is ideal for use in Sydney with its high humidity levels. It was developed by the Australian manufacturer Indigo Specialty who have a range of products specific to Australian conditions.
Hydroforce Recharge is unique as it contains a combination of nonionic surfactants plius an L-amino acid package to help reduce turf stress. The ratio of EO-PO Block polymer and APG surfactant means superb water penetration and the high loading means that this product really lasts in the soil once applied. That's despite the best efforts of the Australian climate and its high UV light levels.
Being a great soil surfactant Hydroforce Ultra is an excellent water management tool. It does this by improving water efficiency and getting moisture too where it's needed the most. However, it also has a number of plant health benefits.
The benefits of Hydroforce Ultra include:
It Is non burning, so you don't need to worry about any negative impacts on your turf surface;
The L-amino acid package means a better ability to cope with stress during the summer months;
Exceptional water penetration.
Rates of application range from 20-50L/Ha with applicatiions being every month at the lower rate and every 2-3 months at the higher rate..
Hydroforce Recharge Label Hydroforce Recharge MSDS