Hydroforce Rapid soil wetting agent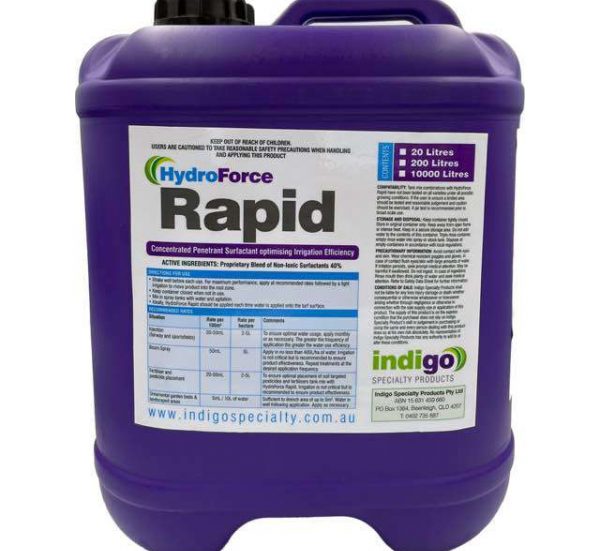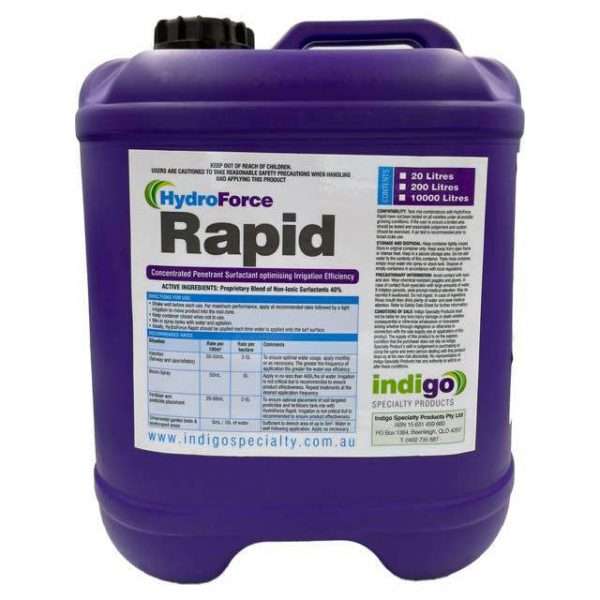 Hydroforce Rapid is an economical soil surfactant which has multiple functions in turf water management.
At lower rates it's an excellent penetrant for use on areas of heavy thatch or hydrophobic soils;
It's also an ideal tank mix partner for many turf chemicals and ensures that the maximum the quantity of active reaches its target;
When you use it at higher rates it gives 6-8 weeks performance;
Finally, you are able to inject directly into irrigation systems to improve water penetration so it is an ideal economical option for large areas.
Being a combination of an Alkyl Polyglycoside (APG) and an EO-PO Block copolymer it possesses some unique properties. There is a synergy between these chemicals that results in excellent water penetration together with long term rewetting performance. as a result of being developed in Australia by Indigo Specialty Hydroforce Rapid is also able to cope with the worst the Australian climate throws at it and is UV stable.
The benefits of this innovative product are:
It Is non burning, so you don't need to worry about any negative impacts on your turf surface;
Rapid water penetration.
Rates of application range from 2-50L/Ha.
Hydroforce Rapid Label Hydroforce Rapid MSDS