Soil and water testing, sports field auditing, wi-fi monitoring of environmental conditions and turf health assessments are among the technical services Gilba Solutions offers. The aesthetics of a sports field are important to those watching and are one of the factors to consider when evaluating turf quality for sports fields. However, the major concern for players is ground safety and performance when subjected to play and this is becoming an increasing issue with increased use of multi-use venues and council grounds.
Sports Field Auditing and remote sensing.
Our sports field auditing services allow rapid turf health monitoring of sports surfaces. By using the latest GPS-enabled remote sensing technology we can:
Map, characterize, measure, and monitor turf characteristics.
Can lead to a reduction in pesticide, turf fertilizer, and water use.
Measure soil moisture, salinity, and turf health.
Identify any issues with surface hardness and sub-surface compaction.
Increase the understanding of the turf condition.
Produce an easy-to-understand report including management recommendations.
Provide a field improvement program, based on the data collected for each field.
Determine if issues exist with playing field use such as hours of play.
Identify any drainage, soil, and turf type issues, and finally
Identify any limitations relating to fertilizer, labour, etc.
Compaction monitoring:
By measuring soil density, trafficability, and compaction, the SC 900 determines problem areas so remedial work can be better targeted, producing a healthier root system and better drainage.
Turf Health assessments:
Using an NDVI allows early detection of problems, saves time and money, and can be used for monitoring disease, the impact of shade, or even excessive wear.
Soil moisture mapping:
A GPS-enabled soil moisture sensor is used to map the distribution of moisture, identify potential problems, and to conduct irrigation audits.
Clients who have used our technical services include:
The NRL.
Sydney University.
ANZ Stadium.
Bank West.
Knox Grammar.
Kings School, and
The ACT Government.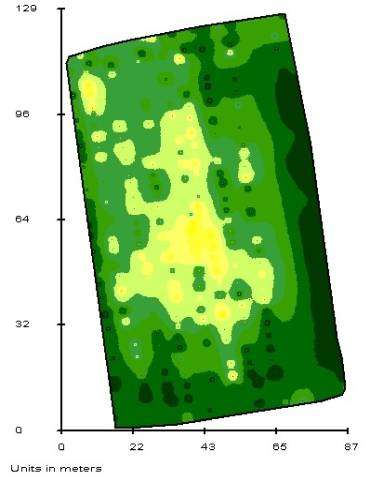 A GPS-enabled NDVI shows turf health and here it is mapping heavy wear through the central corridor of an NRL ground.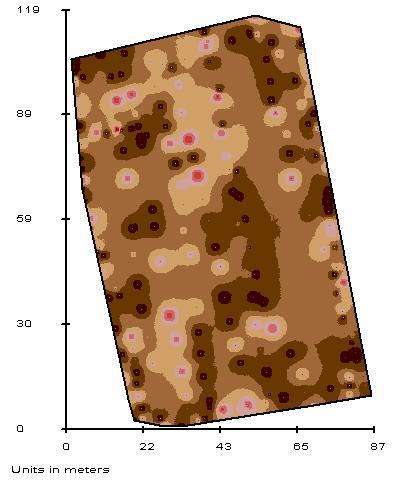 A digital penetrometer maps out soil compaction and identifies any existing subsoil issues that may be present. Here the generated image shows surface compaction.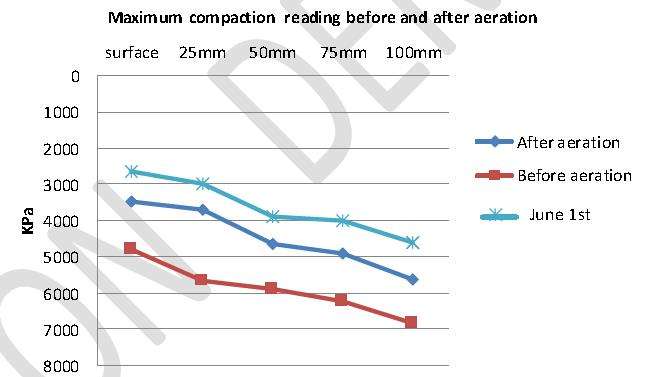 A soil compaction metre is a useful tool to identify areas need compaction relief, whether work carried out is to the right depth and if it has dealt with any identified issues.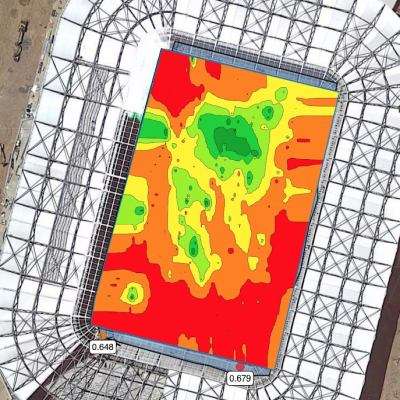 A shade study using an NDVI at Comm Bank Stadium shows the impact of shade on turf health over the winter months.
Sports field Usage levels.
There are several factors that directly contribute to a grounds level of use and these are:
The construction type.
The age of participants as older players cause more wear than children.
Turf type as grasses vary in their wear tolerance.
The time of year and finally
The amount of rainfall as a wet field is more prone to damage.
The following is a brief summary of usage and factors impacting on this and references are available upon request.
A general rule is to limit use to 14-18 hours per week on a well maintained sand based construction
Winter use is the most damaging when growth and recovery are slow.
UK work at the STRI has developed the following guide for perennial ryegrass.
| | |
| --- | --- |
| | |
| Soil field (with or without drainage). | |
| Sand profile with drainage. | 5.3-11 (7.8 hours per week over 35 week season). |
| Sand carpet construction. | |
Turf type also directly impacts on ground usage. The table below shows cool season turf compared to warm season turf assuming fields are sand carpets or full sand root zones with irrigation.
General Rules to maintain surface quality:
Avoid training in high-wear areas such as goalmouths.
Rotate training activities where possible.
Carry out repairs as soon as possible.
Repetitive drills are killers and should not be carried out on the field of play and finally
Conduct regular maintenance such as aeration etc.
Technical Services.
Soil testing.
Soil testing provides useful information about a soil's physical and chemical properties with the value of a soil test depending on several quality factors:
Sampling methods

Analytical methods and lastly

Interpretation of the results.
In the worst-case scenario, ignoring any of these factors can make soil testing pointless or detrimental to soil fertility. In Australia, we are one of the few companies that employ a qualified soil scientist, and our reports are tailored to meet our client's exact needs rather than being driven by a "one shoe fits all" philosophy. Soil testing tips:
Can be taken at any time of the year.
Do not take within two weeks of any application of a fertilizer containing phosphorus, magnesium, potassium, or calcium.
Every three years is ideal unless you are addressing a particular problem.
Water testing.
The challenge of assessing water quality can be one of the most confusing for turf managers. The chemicals present in water directly impact soil chemical/physical properties and subsequently turf performance.